7.5L Air Fryer with 360° Airflow
Technology & Digital Touch Control
Cooking for the family doesn't need to be a multi-appliance affair. Easily roast, bake or fry enough for everyone in the 7.5 litre basket, in half the time of using a conventional oven. Just pop the basket in the dishwasher when you're done.
1700 Watts Turbo Power
Higher Wattage Power means higher temperatures and fast cooking that's better for you.
360° Airflow Technology
Rapid airflow combines with high temperatures for amazing results with less oil.
9 Preset Programs
Our preset automated programs take the hassle out of cooking.
Digital Touch Controls
Cooking is made easy with touch panel controls and easy to read digital display.
ClearView 4
Next
ClearView 5
Previous
Family Chef
Impress your family every time
The Family Chef 7.5L
More options to fuel families on the go.
Large enough to roast with ease, the Family Chef 7.5L air fryer is a busy family's best friend. Faster, more efficient and tastier, the 7.5L air fryer is dishwasher safe. Packed with nine clever pre-set options, cooking for the family is now easier than ordering in.
Family Chef Features
The new Queen (or King) of your kitchen
Feed the Whole Family
Create quick dinners that get you back to where time is best spent: with your family.
7.5L Capacity
Whether cooking for one of or five, Family Chef's 7.5 litre capacity will mean you air fryer can cook enough for everyone.
Preset Modes
We've made cooking easy with no tricky steps to follow. Just select one of our nine presets, close the basket and let FamilyChef take care of the rest.
Dishwasher Safe Basket
Spend less time washing up. Family Chef has a dishwasher safe basket that can be easily popped in the bottom tray and washed over and over again.
Touch Control Panel
We've taken the thinking out of cooking. Our intuitive, bright and easy to follow touch controls will help you get the most out of your air fryer.
360 Degree Airflow
Designed to lock in and circulate hot air and cook from the top and bottom plates, FamilyChef can be counted on to serve even, moist, mouth-watering masterpieces.
FamilyChef Gallery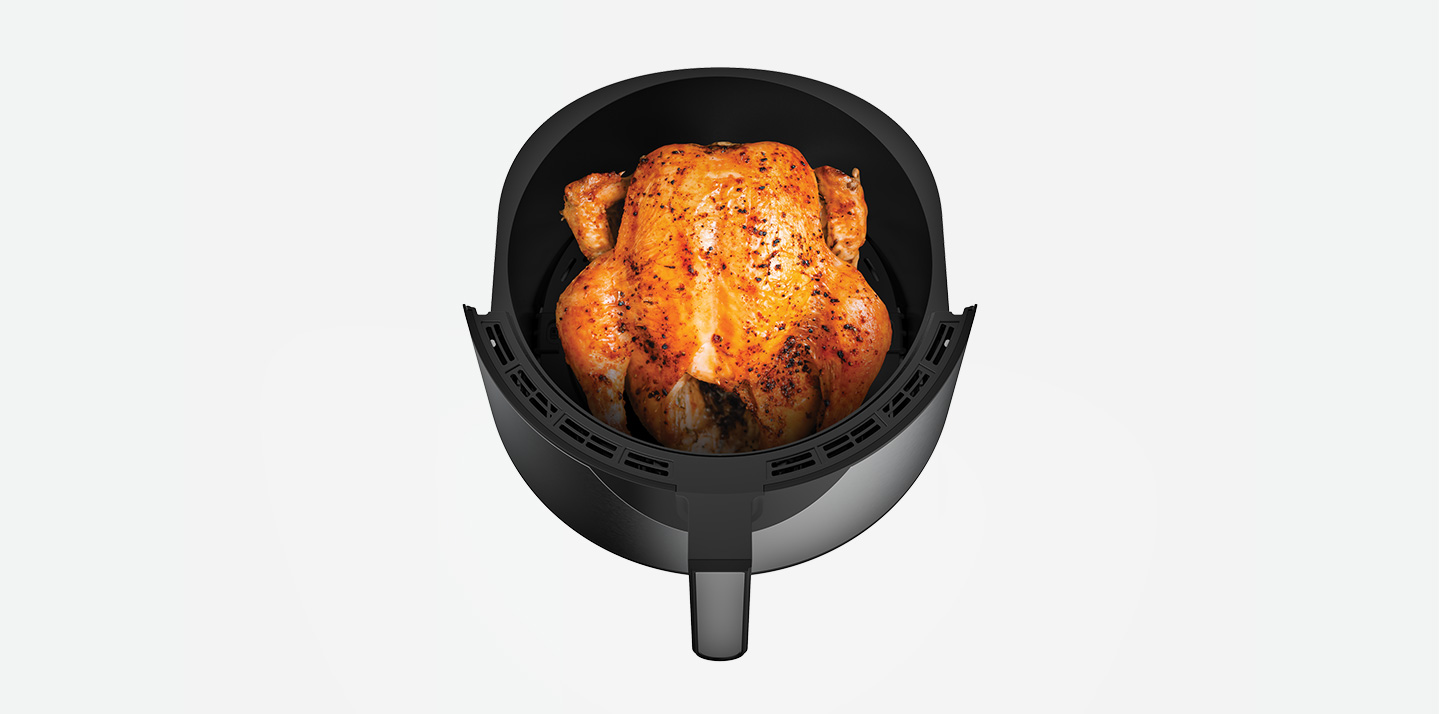 SO-75AFS
Control
Digital Touch Control
Air Flow
360° Air Flow Technology
Modes
9 Preset Cooking Modes
Input Voltage
220-240V 50/60Hz
Cooking Modes
Dehydrate , Baking , Vegetables , Fries, Chicken , Meat , Fish , Seafood and Preheat
Accessories
Non Stick Removable Air Flow Tray
Temperature Range
80-200°C
What's In The Box
Soho SO-75AFS Air Fryer
Air Flow Tray
Manual
Manuals
SO-75AFS Air Fryer Manual